movestrong u
Current Workshops
Learn hands-on how to utilize the MoveStrong™ FTS to conduct challenging, highly effective, and ever changing group workouts for your personal training clients, bootcamps, athletes, students, and anyone looking for results the MoveStrong™ way! We will work with you on putting the pieces together to create safe group functional training workouts scaled for all fitness levels.
Learn progressions and regressions to many exercises performed on and in conjunction with the MoveStrong™ FTS. You will learn how to safely program effective, functional workouts based on your clients' specific needs. Launch and promote group functional training sessions for clients to add additional revenue to your personal training programs. This course will focus on the benefits of interval based functional strength training for a total body balanced multi-planar workout.
Elevated Bodyweight Training
Level 1 - Mobility & Stabilization
This hands-on course will teach the principles of bodyweight training with an overhead anchored tool to improve functional strength/mobility, core stability, and biomechanics of human movement to maximize performance. The fitness professional will learn how freedom of movement, through multiple planes of motion and dynamic stabilization, come together in elevated bodyweight training to provide total body activation that cannot be experienced using a traditional training apparatus. The course will also teach modifications (progressions and regressions) for safe and scalable movements appropriate for all fitness levels and abilities.
Looking for more specific education for your facility and staff? Contact us with questions and request for more educational offerings to help your team make the most of MoveStrong products and training.
Dynamic 3D Strength
Dynamic 3D Strength Training
Introducing the all new DynaBell™ Dynamic 3D Strength Training Course. The DynaBell Strength Training Course is the first of the DynaBell series to come. This Level 1 course is designed to introduce strength coaches, fitness professionals, and enthusiasts to Dynamic 3-Dimensional Strength Training utilizing the MoveStrong DynaBell.
Learn hands-on how to use DynaBell™ for more efficient movements to perform total body multi-planar exercises with varying external load. By combining the traditional dumbbell with features such as added grip positions and rotating
handles, the DynaBell offers the ability to perform these more functional based multi-directional movements. Due to the varied grip positions and handle rotation features, the DynaBell allows for easy transition in planes of motion with functional exercises. Avoid stress on the joints and perform functional exercises more efficiently using the MoveStrong DynaBell.
MoveStrong In-Service Workshop
Intro to MoveStrong FITNESS
MoveStrong Functional Training In-Service Workshop is for fitness professionals, staff, and guest of MoveStrong customers. An introduction to MoveStrong philosophy on functional fitness exercise and hands-on demonstration in a 1-2 hour introductory workshop designed to familiarize attendees with MoveStrong products and Training.

Learn and take part in hands-on training:

• Making the most of bodyweight exercise
•Importance of functional fitness as applied to all ages and ability levels
• Exercise technique and creative ideas to build functional strength and whole body stability
• Utilizing MoveStrong products, how to regress and
progress exercises for all users
• MoveStrong accessory training tools and other equipment to incorporate in workouts
• Programming ideas for group and personal training
• Launching MoveStrong products and philosophy on exercise to others
• MoveStrong resources for continuing education

MoveStrong Equipment to be reviewed is specific to that requested and available at customer's workshop location.
See our workshops in action!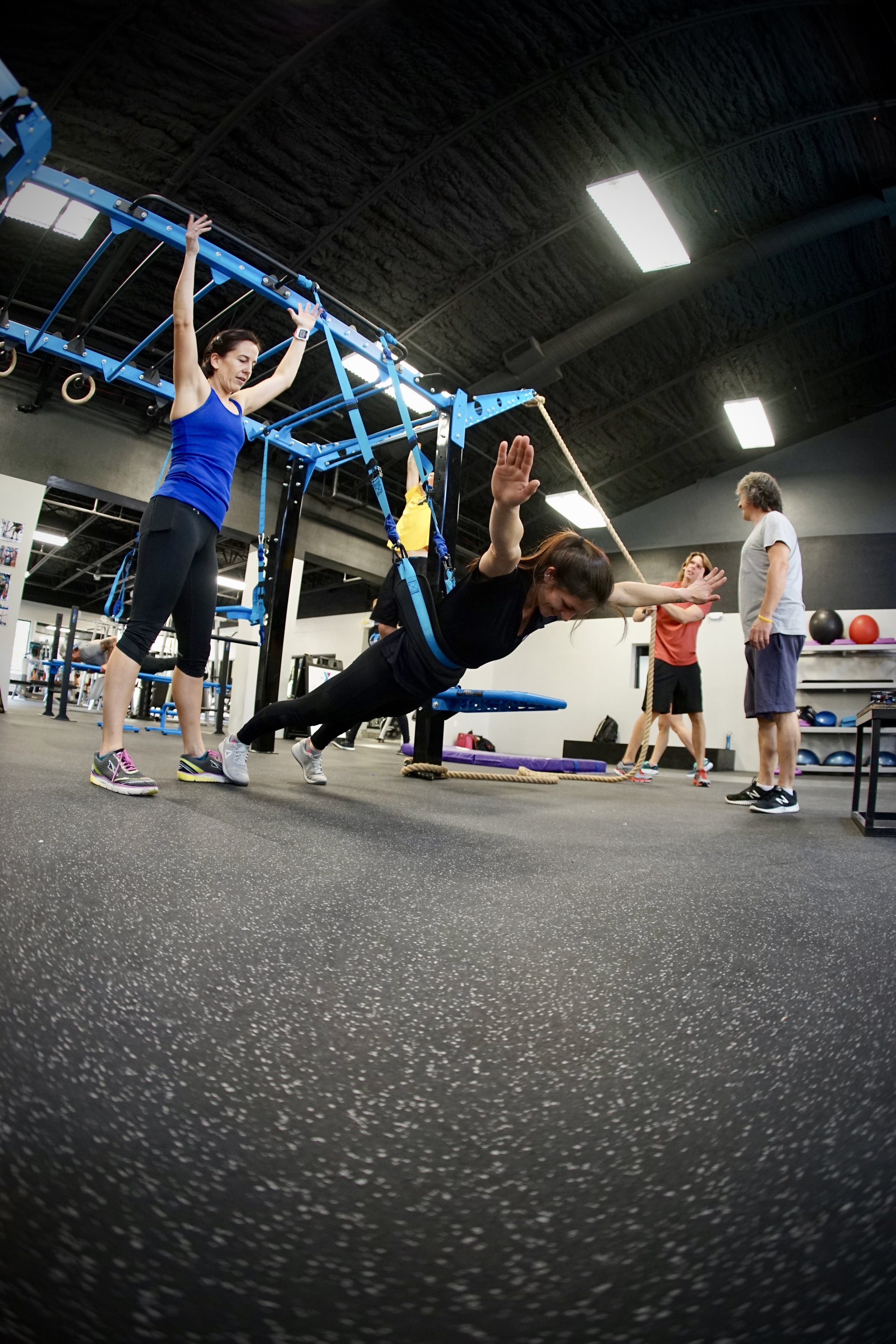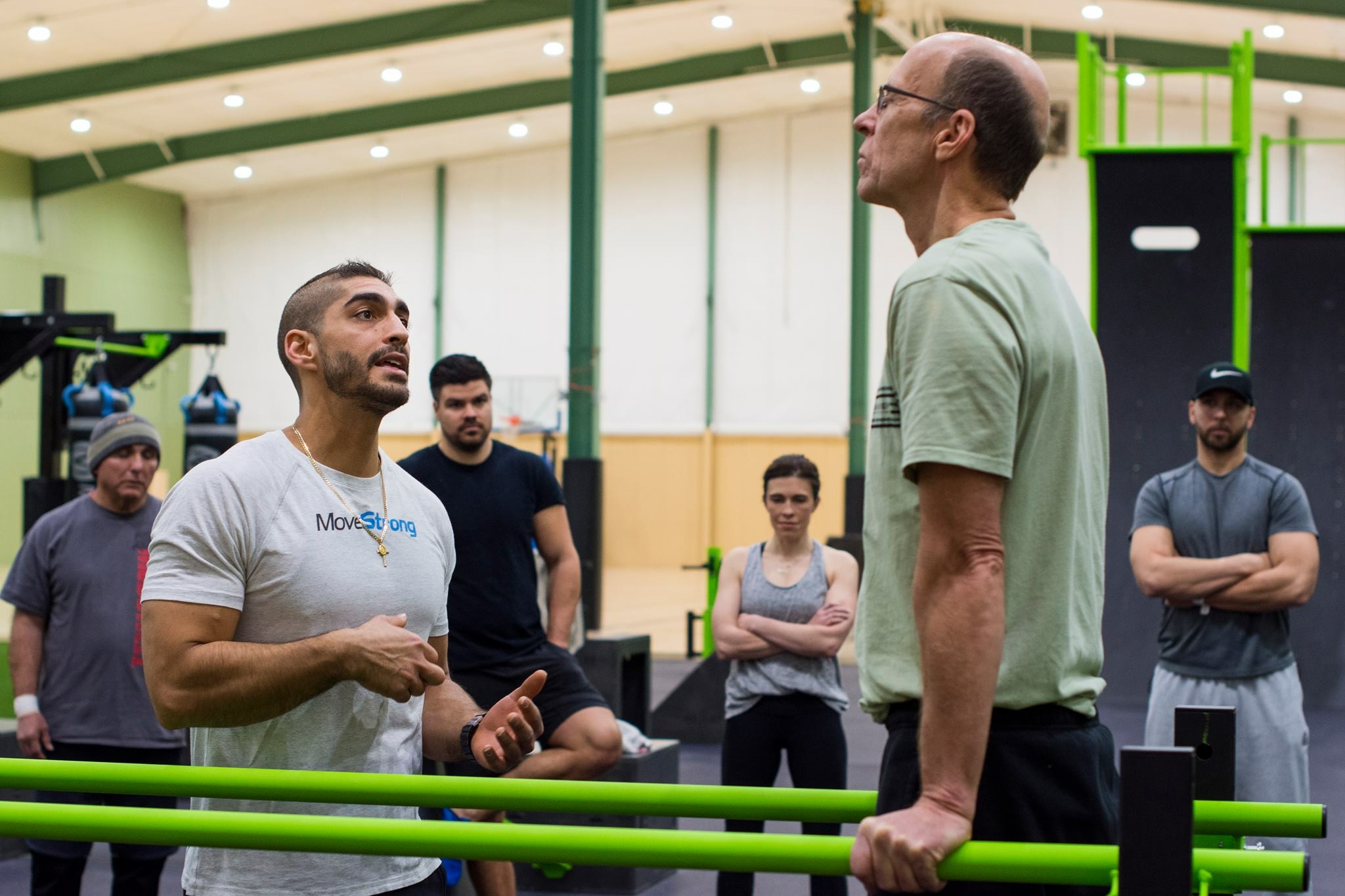 Find out More
Group Functional Fitness with the MoveStrong FTS, Dynamic 3D Strength Training with DynaBell, and Elevated Bodyweight Training are one-day introductory courses offering Continuing Education opportunities and available to MoveStrong customers.
Complete the form below to get more information about our workshops:
MoveStrong Workshops can be tailored specific to your facility, equipment, program offerings, ages, and ability levels.