the fightstrong collection
Our collection of FightStrong products offers only what MoveStrong can with functional fitness features and storage options that you can configure as desired. Integrate our "Functional" Heavy Bag Stand for individual or group combat, MMA, boxing, and kickboxing training. MoveStrong stands and integrated products offer a custom, quality, and high end look to compliment your facility designs.
You can organize accessories on the stands and racks like gloves, jump ropes, bands, and more. With added functionality of anchor points for resistance bands, battle ropes, and suspension trainers. Get extended use of the stand by adding other functional training features like Adjustable Dip, Adjustable Step, and Ground Rotational Trainers to columns.
US PATENT D855,720
Functional Training heavy Bag Stand
FightStrong Single Functional Column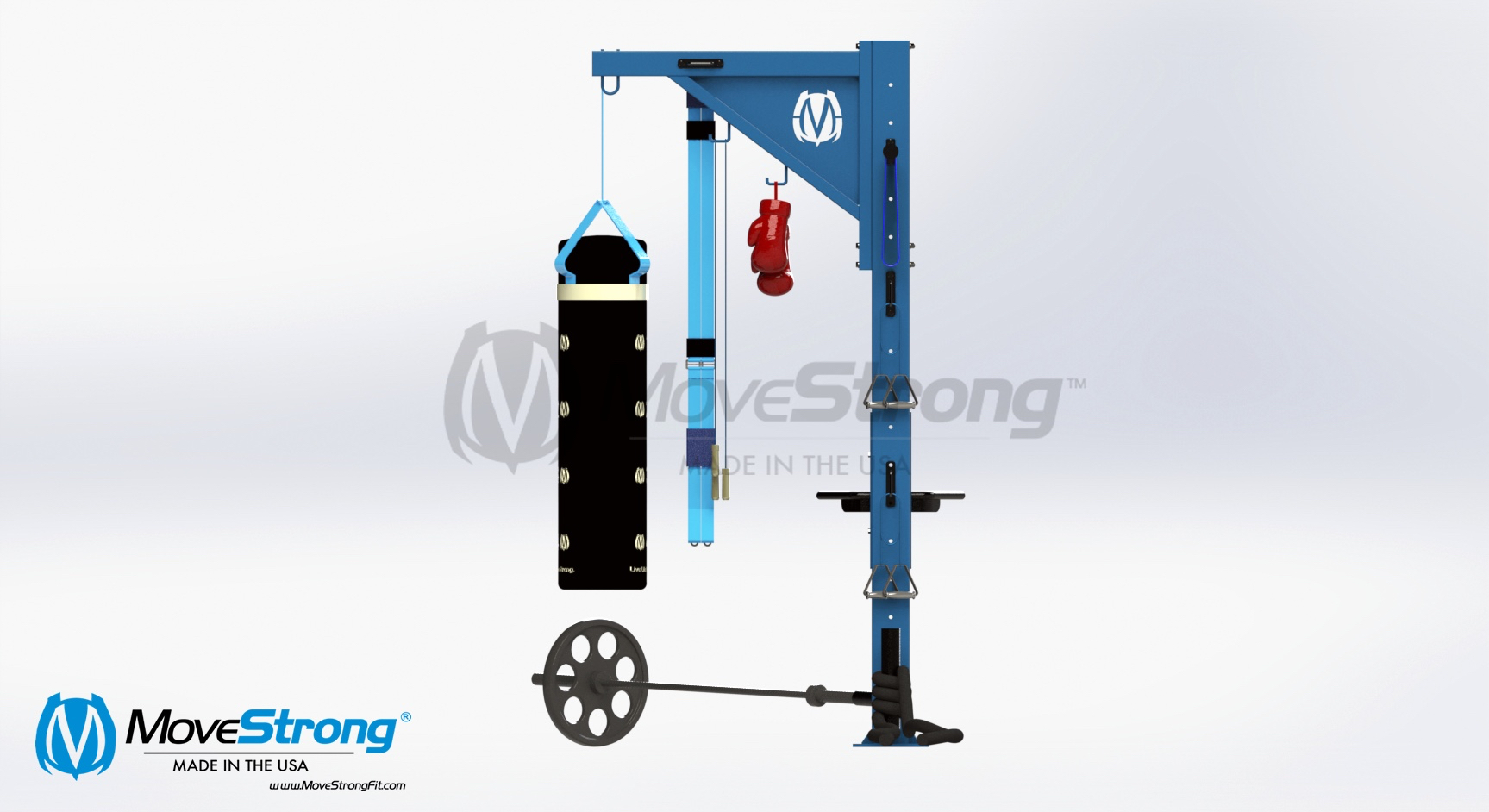 Modular bag stand with Pull-up Bars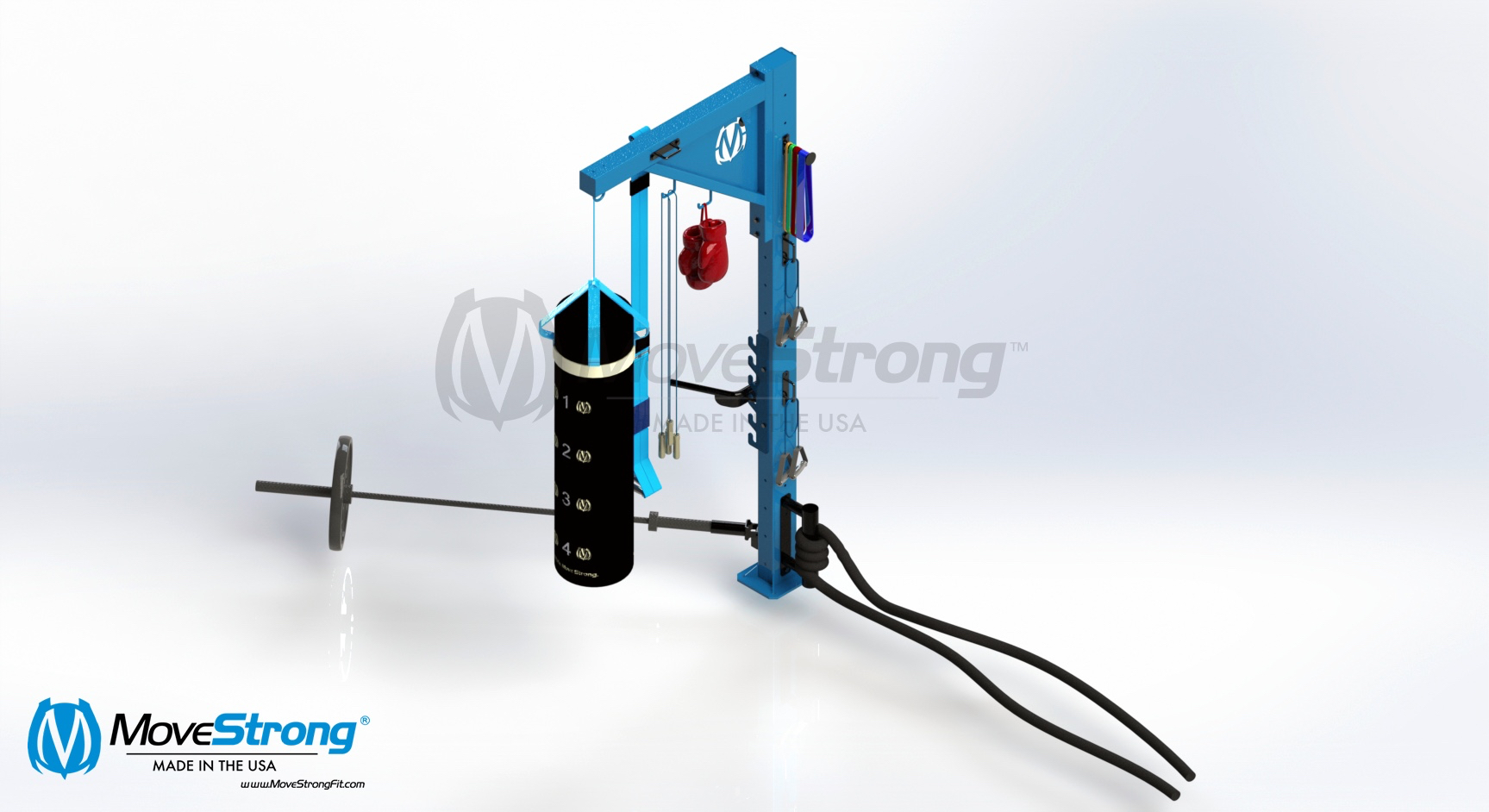 Nova-6 Group Training Bag Rack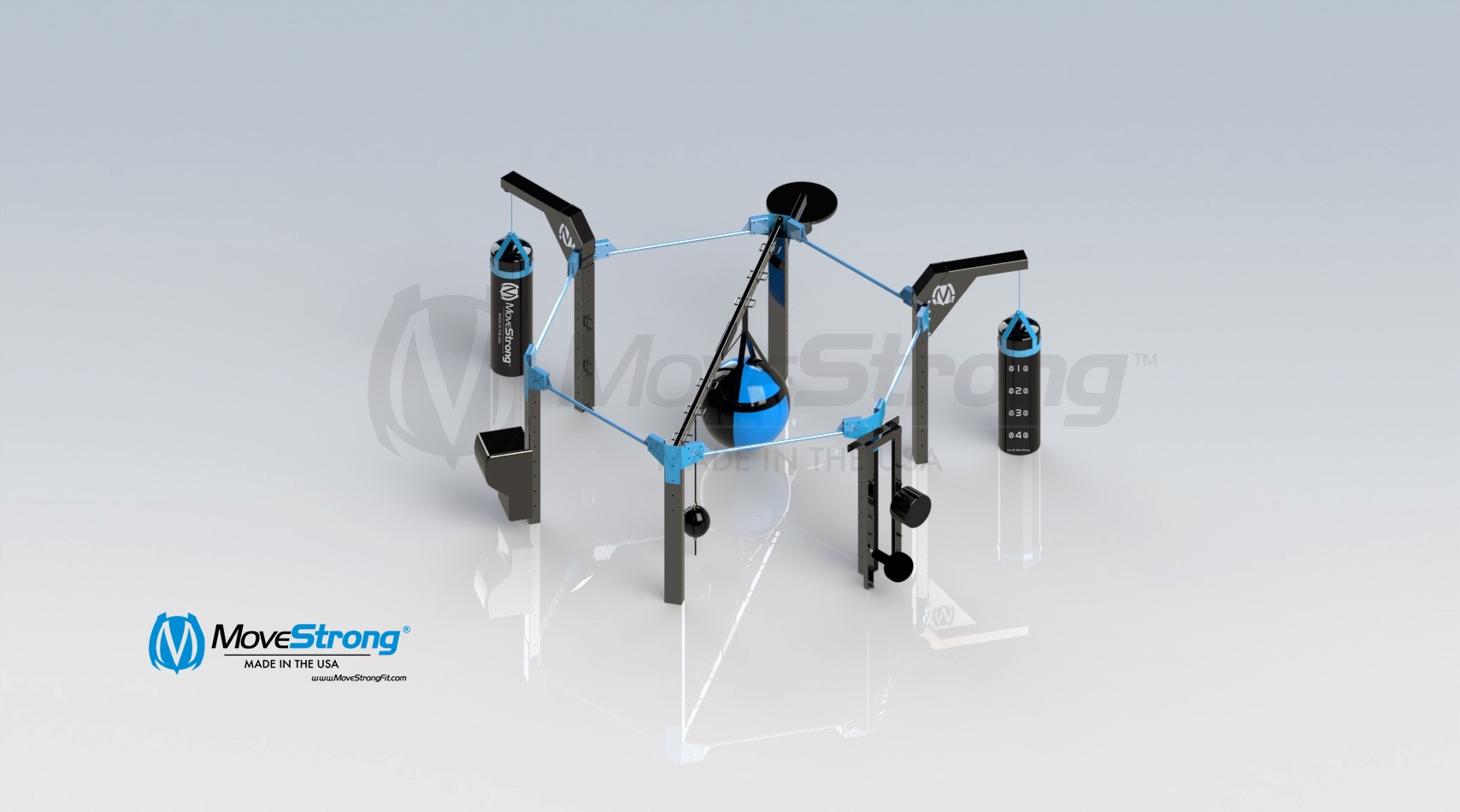 SINGLE Functional Column
Single or modular to connect additional stands together with pull-up bar options. Included storage hooks and anchor points for fitness tools such as resistance bands. Add additional functional fitness features such as Dip, Ground Rotational trainer, Battle rope anchors, and more. Choose color options. See below for dimensions.
FightStrong Nova-6 FTS
For multiple type bag or fight stations. Utilize each of 6 column to hold a different fight modality such as Maui Thai bags, Speed bags, Upper cut bags, or other. Center overhead support bar holds additional bags. Ideal for offering a variety of bag types for individual or small group instructor workouts.
FightStrong Modular With Pull-up Bar and Storage Tray Connectors
Use different style pull-up bars and storage trays to connect columns together for desired length. A great way to create the unltimate Group Training area centered around Heavy Bag work with bodyweight and functional fitness modalities.
FightStrong Nova XL Bridge For Group Instructor Training
Arrange bags as needed at different heights and positions to lead group workouts. Incorporate with other bodyweight and suspension trainer exercises.The MoveStrong sliding accessory track(link to blog video) offers the ability to move bags or other hanging accessories when needed from one position to another on the lower support frame of the XL bridge.
Bag Stand Dimensions
(Pull-up Bar Connector Options Vary In Width)
Not Your Average Punching Bag
We wanted a beast of a bag that had more purpose than just throwing punches. Built to last, like all our USA made products, in a heavy commercial gym facility with features to help in personal/group training workouts by adding call-out targets for coaches and clients to use in varying targeted blows to the bag. Give it your best elbows, jabs, kicks, and then clinch the top grab handles to delivery a more powerful vicious knee to your targeted area.