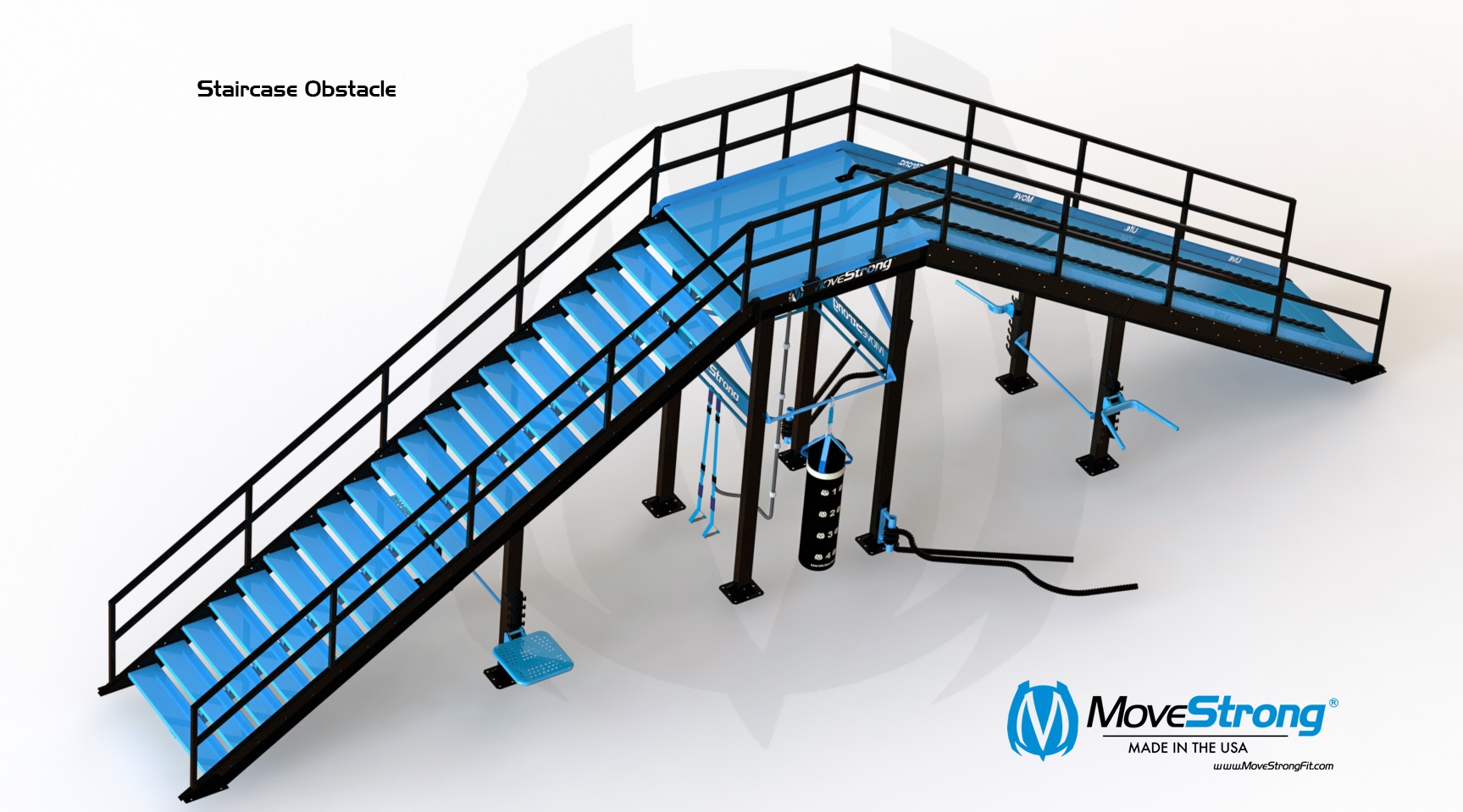 CHOOSE DESIRED TRAINING OPTIONS
MOVESTRONG
Functional Training Staircase & Ramp
A pillar in functional fitness and locomotion training is movement with one foot in front of the other. The long awaited MoveStrong Functional Training Staircase and Ramp Obstacle is now available to focus on just that! It provides the added challenge of locomotion UPWARDS on a staircase and ramp with countless exercises options that build true functional fitness to improve the body's strength, stamina, conditioning, and human performance!
Choose between a full set training staircase or with a ramp designed for countless functional and obstacle course style movements. Create the ultimate fitness programming for group training, team sports, and obstacle course challenges!
Customize as an all-in-one functional training station (FTS) with added training features under the staircase! Incorporate staircase and locomotion training with all the best features of old and new in calisthenics, military, Fire and Police, bootcamp, Sport Performance, HIIT, functional fitness, Ninja Warrior, and OCR (Obstacle Course Race) training!
KEY FEATURES:
MADE IN USA

Patent Pending Design

Heavy Duty built for Commercial Use

Indoor use or built for Outdoors use with special weather preparation

Two Staircase designs to choose from with Straight or U-shape design

Customize with training features under staircase like Dual Height Pull-up Bars, Battle Rope Anchors, GRTs (ground rotational trainers), Rope climb, Adjustable Dip, Adjustbale Step, and more

Choose between Staircase and Ramp sides

Integrated Grab Ropes on the Ramp side for assist up and down ramp, and using for resistance rope pulls up the ramp

Safety Railing and diamond plate tread for traction

Custom color options available

Modular design means more options to add and new ones to come!


SPECS:

Long Design - 15' Height (with railing) x 5'9" Wide x 44'9" long

U-Shape Design - 15' Height (with railing) x 15' Wide x 23.5' deep

Upright post anchored to a concrete floor

Dual powder coat color scheme option available. Standard Colors are Black with MoveStrong Blue. Inquiry about custom colors

CONSULT AN ARCHITECT AND LICENSED CONTRACTOR PRIOR TO ORDERING TO ENSURE YOUR FLOOR IS ADEQUATE TO SUPPORT SIZE AND WEIGHT OF STAIRCASE .
New training features under the Staircase include Squat racks for all your traditional barbell lifting needs. The U-shape Staircase gives more space for under bridge training options. Chose to place Squat racks under or facing outwards from Staircase. Other options include:
Medicine Ball targets

G-loops resistance band anchors

Incline Monkey Bars (U-Staircase only)

Kickplate for Medicine Ball throws

Custom Ramp artificial turf surface with custom logo and design
FIND OUT MORE
CALL US 855-728-8700
See the MoveStrong FUNCTIONAL STAIRCASE in Action!
Watch this video for just a sample of exercise capabilities
DESIGN & LAYOUT
Don't settling for a cookie cutter design approach to your functional fitness gym and Obstacle corse training layouts. Let us help create something unique for your space and training needs! Here are just a couple ideas of how we like to incorporate the MoveStrong Functional Training Staircase in gym layouts and obstacle course set-up.